Innovating the travel experience
Innovation has always been part of our DNA – from our launch almost 20 years ago when we changed the way people fly to the present day where we lead the industry in digital, web, engineering and operational innovations to make travel easy and affordable for our passengers, minimise disruption and improving our efficiency.
Digital innovation
Over the last five years, we have used digital to transform the airline and your travel experience, whether that be our award-winning app with 17m downloads or mobile host technology at airports.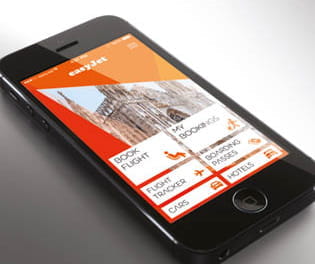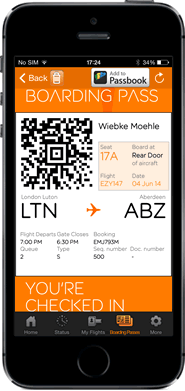 Mobile app
Our award winning mobile app allows our passengers to book, check in for flights, download mobile boarding passes and receive real-time information on flight status.
Mobile boarding pass
In 2013 we added a mobile boarding function to our app, allowing our customers to check in in less than 10 seconds, download and store their boarding passes on iPhone and Android phones.
Designed to be simple and easy to use. Once boarding passes have been downloaded they are stored offline so no network coverage or wi-fi is required and therefore no roaming charges. The app also has Apple's popular Passbook functionality so that customers can easily store boarding passes for upcoming trips in one, convenient place.
Apple watch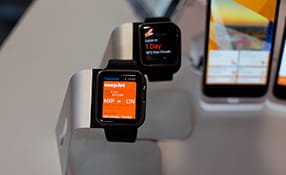 We have designed an app for the Apple Watch that seamlessly connects to the easyJet app to provide personalised flight information and real-time views of travel information with one of the main benefits being the Passbook boarding passes that enable quick and convenient use throughout the airport.
Earlier flight
We understand that sometimes plans change and you might want to get an earlier flight home. If there is availability you can transfer onto an earlier flight departing on the same day for a small change fee, direct from our mobile app. You can checking availability any time on the day of your original return flight.
For added ease, you can also transfer onto an earlier flight departing or arriving at a different airport, as long as it's within the same city or location as your original booking.
Flight Tracker
We were the first airline in the world to collaborate with Flightradar24 to integrate live aircraft tracking to our iPhone and Android mobile app, meaning passengers can view the exact whereabouts of the aircraft they are due to fly on in real time up to three hours before their flight.
Apple Pay
We're always looking for ways to make your journey simpler, so we're proud to be one of the first airlines in Europe to be offering Apple Pay to our customers. Instead of scrabbling around looking for your bank or credit card, use your iPhone or iWatch instead. It's that simple. Apple Pay works in a similar way to contactless; only your card details aren't stored on your phone, so it's safe, secure and private.
Mobile Host
The Mobile Host function on our mobile app is helping to make our passengers' journeys even easier. It combines live data from the airports information systems, together with a passenger's booking details, location and flight time. The result is personalised instructions and updates for passengers during their journey. This includes; Check in reminders and confirmation of booked baggage allowances, navigation and maps to guide you through the airport, real-time gate and baggage belt push notifications delivered direct to the phone.
Passport recognition
Passengers using an iOS or Android device can now scan in their passport details using their mobile phone camera, making it quicker and easier to check in. This information can then be stored for future bookings.
Auto bag drop
In most of our airports we have introduced fully automated bag drop machines in order to help to reduce and eliminate check in queues. As a result of this, queue times have reduced by half and more than 90% of our passengers will now wait less than 5 minutes at bag drop.
Engineering innovation
We are also applying new cutting edge technology help us run our fleet of Airbus A319 and A320 aircraft even more effectively, efficiently and safely.
The advantage of these emerging technologies is threefold - freeing up our engineering team to undertake more skilled tasks, keeping our costs down which in turn keeps our fares low and helping to minimise delays so maintaining our industry leading punctuality for our passengers.
Drone and robotic technology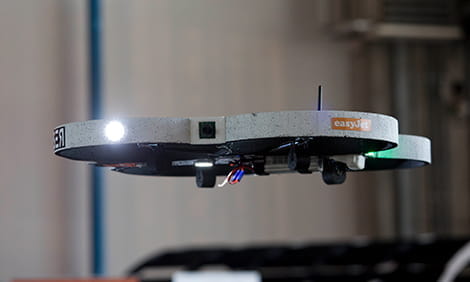 We are working with Coptercraft, Measurement Solutions and Bristol Robotics Laboratory to modify existing technology so that drones can be employed to inspect our aircraft. Drone technology could be used extremely effectively to help us perform aircraft checks. Checks that would usually take more than a day could be performed in a couple of hours and potentially with greater accuracy.
The drones will be programmed to scan and assess the planes reporting back to engineers on any damage which may require further inspection or maintenance work. The drones are currently in development with a view to trialling them in the coming months and introducing them into operation as early as next year.
3D Augmented reality technology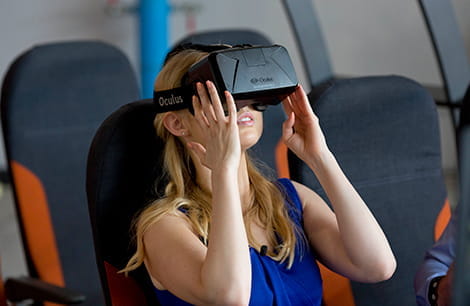 Alongside the drone technology, we are looking at deploying 3D Virtual Reality and Augmented Reality technology by Epson and Vuzix which enables a remote engineering team to see exactly what a pilot or engineer is seeing using virtual reality glasses. The glasses use the world's first high definition see through display system, providing augmented reality helping easyJet to remotely diagnose a technical issue.
This technology will be especially useful in some of our more remote airports across our network. Currently engineers and pilots have to email pictures and call our Operations Control Centre to try and resolve the issue over the phone. We are also currently trialling similar video technology from Vidcie and XO Eye that allows live streaming between the engineer on the ramp and our Operations Control Centre.
Apps
Our engineering department has also worked with Output42 to develop their own bespoke apps which allow engineers to perform certain day-to- day tasks more efficiently and return aircraft to service quicker. For example, one app helps engineers identify and replace damaged fan blades by scanning fan blades and automatically ordering a suitable replacement blade from the airline's inventory.
The apps are in different stages of development and we currently trialling a range of them.
Paperless aircraft
In 2014 we completed the fitting of Panasonic Toughpads, in place of laptops and printed navigational charts in all our cockpits. We are one of the first airlines to use this type of device in all phases of flight and on the ground. By replacing heavy printed log books we have removed 27Kg of paper per aircraft per flight, equating to a reduction of over 20,000 tonnes of CO2 emission per year.
In addition, new 'e-paper' technology created by Sony, could see us completely eradicate printed forms in the cabin; this would mean an entirely paperless plane. This new Digital Paper is the latest lightweight design from Sony which makes it feel like the user is writing on paper. Completed forms can be quickly saved into a central database enabling quick and easy access to information on all of the aircraft. Trials will start in the coming months.
Predictive maintenance
easyJet has entered into a five-year predictive maintenance partnership programme with Airbus to forecast aircraft technical faults before they occur. The technology relies on Airbus' Skywise data platform which will allow easyJet's engineers to intervene early and replace parts before the component's failure, thereby preventing passengers from experiencing delays and cancellations.
The new programme builds on the success of a trial of the platform. Initially, the focus was on just three specific technical issues on 85 aircraft in easyJet's fleet. Skywise predicted 31 technical failures which enabled easyJet to remove components before a fault occurred. This meant that at least 31 flights – which would have carried more than 4,400 passengers - operated on schedule that would otherwise have been disrupted. Had the fault occurred at a remote airport the delay could have led to an overnight delay and knock on delays on other flights.
Developing from this prototype Skywise can now analyse data from other components on easyJet's aircraft thanks to the installation of Airbus' newly released flight operations and maintenance exchanger FOMAX – which can collect 60 times more data than existing systems.
AVOID
We have been working alongside Airbus and Nicarnica Aviation on ash detection technology AVOID (Airborne Volcanic Object Imaging Detector) which is expected to be fitted onto one of our aircraft within the coming months.
We have supported the development of this innovative technology since the 2010 volcanic eruption which brought aviation to a halt in Europe. We look forward to being the first airline to fit this technology on our aircraft.
The AVOID system can be likened to a weather radar for ash. Created by Dr Fred Prata of Nicarnica Aviation, the system utilises infrared technology fitted to aircraft to take images. The images will enable pilots to see an ash cloud, up to 100km ahead of the aircraft and at altitudes between 5,000ft and 50,000ft, allowing them to make small adjustments to the plane's flight path to avoid any ash cloud. The concept is very similar to weather radars which are standard on commercial airliners today.
On the ground, information from aircraft with AVOID technology would be used to build an accurate image of the volcanic ash cloud using real time data. This could open up large areas of airspace that would otherwise be closed during a volcanic eruption.