Our commitment
Flying is fantastic, it allows us to explore, relax and restore ourselves and it leads to amazing memories with old and new friends. But it's time that we took responsibility for the effect flying has on the environment.
Today, there is no way to operate one of our flights without emitting CO2 – the zero emissions technologies are not available, and sustainable fuels, with a lower carbon footprint, are still scarce. However, we can take steps to partly address the impact that our choices have on the environment. That's why, for every single flight we operate, we offset all the carbon emissions from the fuel used, by supporting projects that protect against deforestation, plant trees or drive the uptake of renewable energy. These projects either avoid the creation of new carbon elsewhere, or directly remove carbon from the atmosphere.
It will come at no cost to you, our customers. In fact, we have not introduced, nor will we introduce, any supplements to the tickets' price for our flights.
We are aware that carbon offsetting is not a long term solution, but we believe it currently represents the best way to compensate for the impact of the carbon emitted from flying. It's part of our drive to become a more sustainable airline.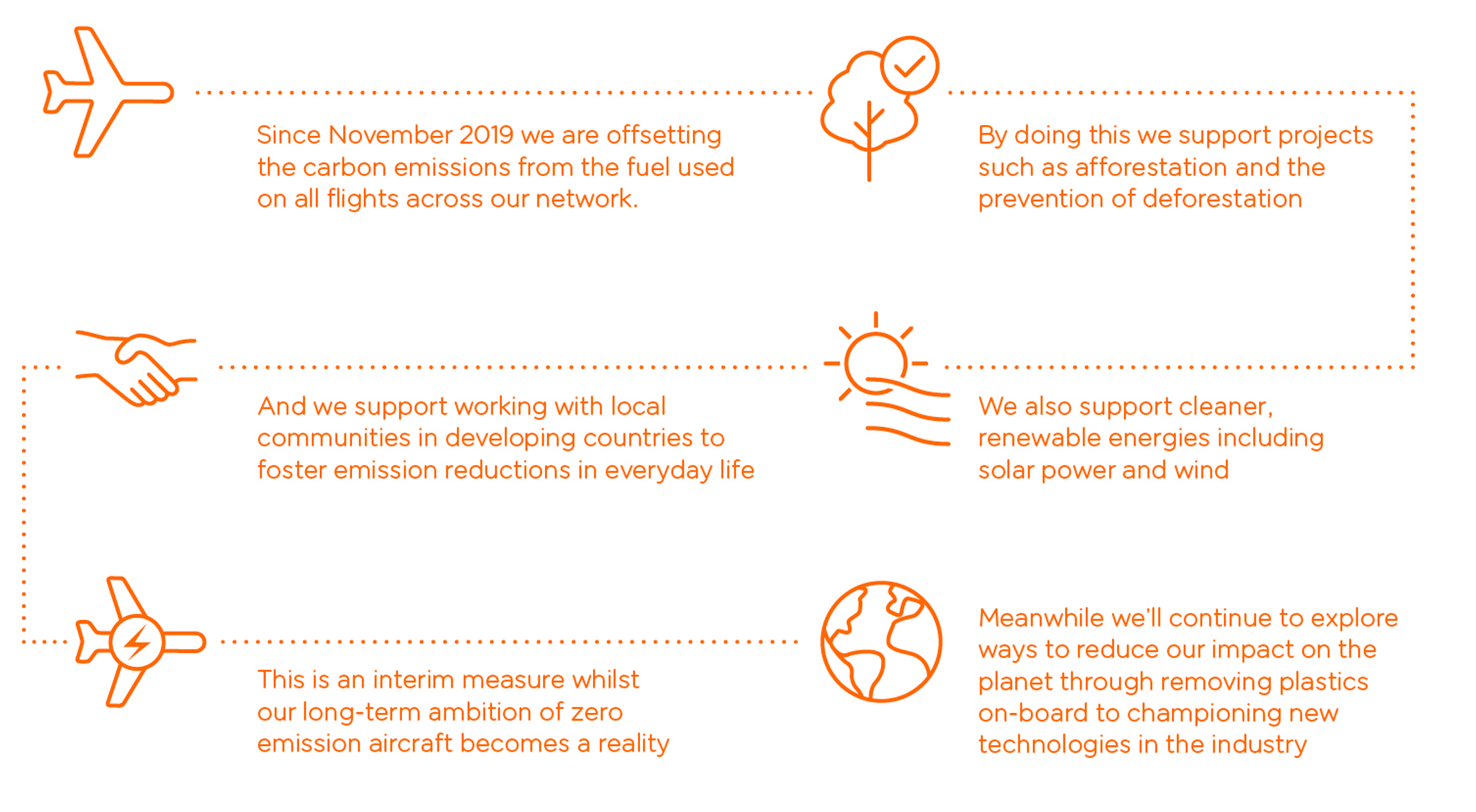 We've been committed to reducing carbon emissions and efficient flying for a while now
In parallel with the participation in projects related to carbon offsetting, we are committed to research and implement other ways to reduce our emission intensity, such as removing weight from our aircraft or taxiing on one engine. We're already championing, in the medium-long term, the development of zero emission aviation technologies and will continue to do so.
Since 2000, over a 20-year period, easyJet has already reduced its carbon emissions per passenger, per kilometre by one-third
We introduced the Airbus A320neo aircraft back in June 2017 and in 2019 we took delivery of our first A321neo aircraft, which is our largest, quietest, most cost-efficient and most fuel-efficient aircraft yet.
We aim to fill each flight so they're efficient. In 2019 the load factor was 92.9%.
We fly point-to-point routes rather than flying a customer to a hub airport and then on to their final destination, t

o reduce fuel usage.
Where possible we use only one engine when taxiing on the ground; and use climb, descent and landing techniques that improve efficiency.
To reduce weight and fuel consumption, we've introduced lightweight Recaro passenger seats and use electronic devices as opposed to paper documents.
For more information on the measures we are taking to reduce our carbon emissions please visit the sustainability chapter of our annual report.
What this means for you

The fact that we're the only major European airline to offset all the carbon emissions from the fuel used for all of our flights means that, if you do choose to fly, flying with us is a more environmentally conscious choice. We fly a modern fleet with an increasing proportion of Airbus Neo aircraft, which are 15% more fuel efficient than the aircraft they replace. Furthermore, we continue to support the development and implementation of innovative and more sustainable aircraft technologies over the medium to long term in order to reduce the amount of carbon emitted.
------------------------
Since November 2019 we have flown millions of customers and fully offset the carbon emissions from the fuel used on all of their flights by supporting forestry and renewable energy carbon offset projects that are certified to the highest standards in this field.
How are we carbon offsetting?

We pay to participate in the highest standard carbon offsetting projects, that meet either the Gold Standard or Verified Carbon Standard (VCS) certification. This means working with EcoAct and First Climate; companies that are globally recognised and respected for their standards of offsetting. This is a voluntary carbon offset system, complementary and additional to the EU Emissions Trading Scheme (EU ETS) applied in EU Member States or other legal requirements such as the International Civil Aviation Organization Carbon Offsetting and Reduction Scheme for International Aviation (CORSIA), where applicable
To find out more about these energy and sustainability consultancy services visit the websites below:

The carbon offsetting projects we're supporting include:


Forest regeneration in South America and Africa

Forests in South America and Africa are a habitat for flora and fauna, able to absorb carbon dioxide from the atmosphere and help to control global CO2 emissions.

Due to high poverty levels among communities in the region there has been much deforestation for firewood and agricultural expansion.

The projects we're investing in will help the government and local users to manage the responsibility of the forest. Making standing trees more valuable to local people by creating job opportunities and strengthening sustainable land-use practices to protect against deforestation.

Solar energy in India

In India, fossil fuels are the primary source of energy, and coal accounts for 75% of the total energy consumption. The heavy reliance on fossil fuels results in the emission of carbon dioxide, methane and nitrogen into the atmosphere.

This project helps to diversify India's energy mix, lessen the reliance on coal, and reduce the carbon intensity of the grid. The project is part of a large solar installation in Tamil Nadu with more than 820,000 solar panels which will eliminate the need to produce power using fossil fuels and cut around 350 kt of carbon dioxide annually.



Community-based

DelAgua

This latest project aims to tackle Rwanda's health and environmental problems by improving cooking technology and is currently the largest stove distribution project of its kind in the world.

Currently, the majority of Rwandans rely on traditional wood fires for cooking, which are damaging to both health and the environment. Traditional fires are not only inefficient, they also produce toxic fumes and it is women and children in particular who suffer.

The project distributes new, more efficient cookstoves to households which reduces wood consumption, saves time and money, cuts carbon emission and reduces deforestation. As the stoves produce less pollutants, cooking is much safer for families.

DelAgua's project really improves everyday life for these communities and helps to create a cleaner world for all.

More information can be found in the carbon credit retirement certificates that we publish for each of our projects.


Looking ahead to the future


We believe flying should be a viable choice that's open to everyone both now and in years to come, so we are committed to reducing our environmental impact and championing the development of zero emission flights.


We're supporting Wright Electric who are working on creating a zero-emissions plane. Late in 2019 we announced a partnership with Airbus to support the development of their hydrogen-powered aircraft. The entry into service for both these aircraft is expected, at the earliest, by the mid-2030s.


We're engaging with policy makers across Europe to push for measures that will encourage zero emissions flying to be adopted.
We are committed to waste minimisation and plastic elimination across our operations and applying the waste hierarchy to reduce the impact of any residual waste
In our inflight service we applied changes to the dry store items which are used to serve food and drink products, such as removing plastic spoons and replacing plastic stirrers with wooden stirrers, and by doing so we eliminated over 36 million individual items of plastic. We also offer discounts on hot drinks for customers who bring their own reusable cup.
We recently introduced new crew uniforms made from recycled plastic bottles. 45 bottles go into each outfit – with the potential to prevent 2.7 million plastic bottles from ending up in landfill or in oceans over the next five years.
In our Engineering and Maintenance operations we initiated a dialogue with an aircraft interior support company that provides environmentally responsible ways to recycle end of life interiors and waste materials. The aim is to review disposal options for end of life aircraft interior materials and plastic parts and establish which parts and materials can be processed and recycled if collected separately, rather than being disposed to landfill.
For more information check out our FAQs and take a look at the Sustainability part of our annual report.View our carbon offset infographic to find out how we offset carbon emissions from the fuel used for our flights.
easyJet entrusts an independent operator with assessing its aircrafts' fuel consumption and the related CO2 output indicators on an annual basis.