easyJet has now supported UNICEF's appeal to support children affected by the crisis in Syria and neighbouring countries on three separate occasions.
In September 2015 easyJet launched a two-week on-board collection in response to the refugee and migrant crisis. At the time, it was estimated that more than 2 million children had been force to abandon their homes. Thanks to the generous support of easyJet customers over £411,000 was raised – a truly incredible response. easyJet also made a £10,000 corporate donation to kick-start the appeal. These funds have been helping UNICEF provide life-saving food, water and vaccines, and giving children the opportunity to learn, play and recover from the trauma of war.
Thank you for your generosity.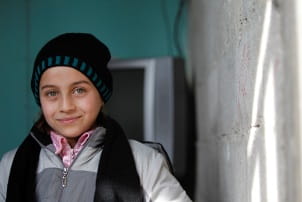 "I want to become a doctor when I grow up," says Teba age 11.

Some children and their families have been displaced many times by the war. Teba and her family have been displaced six times in the past three years. They now live on the outskirts of Damascus, Syria.
© UNICEF/Sanadiki