What are your data protection rights?
Data protection laws give you specific rights in relation to your Personal Data and we want to make it easy for you to exercise these rights.
Learn more about your data rights and how to make a request below: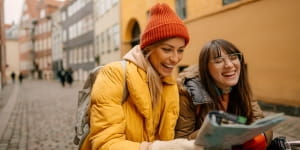 Data Rights Request?
1. The Right to be Informed and have Access
You are entitled to know whether we hold your Personal Data and if so, receive a copy of your Personal Data.
2. The Right to Data Portability
You have the right to receive some of your Personal Data in a portable and reusable format.

Your right to data portability only applies to your flight and holiday history. Here is an example of the Personal Data you could receive if you send us a data portability request:
| Booking reference | Date | Flight No. | Origin | Destination | Currency | Price | Seat No. |
| --- | --- | --- | --- | --- | --- | --- | --- |
| FG123H | 23/12/2016 | EZY123 | LTN | LIS | GBP | 25.99 | 9B |
3. The Right to Rectification
If you believe that we hold incorrect or incomplete information about you, please let us know and we will aim to correct it. Most of the time, you will be able to correct and update your information through your easyJet online account.
4. The Right to Erasure
The majority of the Personal Data we collect about you is to meet easyJet's legal obligations or to fulfil our contract with you when you travel with us. As such, most of the Personal Data we hold about you will need to be retained in line with our stated retention periods in order to fulfil these obligations.
Where we rely on consent to process your Personal Data or use it for direct marketing purposes, you can request that we delete your Personal Data.
Where we rely on legitimate interests to process your Personal Data you can also make a request to delete your Personal Data and we will review this.
5. The Right to Restrict Processing
In certain circumstances, you may ask that we continue to store your Personal Data but not use it. For example, if you consider that we hold Personal Data relating to you that you may need for legal purposes, you can request us to not delete this information.
6. The Right to Object
Where you believe you have reasons to object to the use of your Personal Data, for example, where our use is based on legitimate interests, you can make an Objection Request and provide us with the details of why you believe easyJet should stop using your Personal Data for a particular activity.
Whenever we rely on legitimate interests, we have undertaken a thorough assessment of the processing activity and have balanced our business interests against your rights and freedoms, as well as ensuring we have minimised the use of your Personal Data.
If you would like to unsubscribe from marketing you can unsubscribe at any time by clicking an unsubscribe button at the bottom of the marketing email, or alternatively you can manage your preferences by logging into your account. If you use our easyJet app you can manage your pop-up notifications in the communication settings of your easyJet app account.
7. The Right to Revoke Consent
Where we process your Personal Data based on your consent, you can withdraw your consent at any time by contacting the easyJet data protection team at data.protection@easyjet.com.
8. The Right not to be subject to a decision based solely on automated processing
You have the right to object to any easyJet decision based solely on automated processing. Your objection does not affect the legality of any processing carried out before your objection.
Data Rights Request Form
Our data rights request form makes it easier for you to make a rights request and for us to locate your information quickly. To make a request you will need to provide the following information:
Your full name,

A description of the Personal Data that relates to your rights request. An accurate description of your request will save you time and effort and will allow us to focus our searches on what you need and quickly reply to you,

All email addresses you have used to book or communicate with us, even if you no longer use these,

Other information that may help us locate your Personal Data (e.g. your booking references or date ranges),

For the protection of your Personal Data, we will also need to verify your identity, so make sure you upload in the form a copy of your current and valid photo ID (e.g. passport page).
If you submit a request on behalf of another person, we will need to ensure that this person has authorised you to make this request and receive their Personal Data. To make it easier for you, we have included in our form a simple consent form to ensure that you have the right to submit your request.
After you submit the form, you will receive a confirmation receipt. If we need more information from you to process your request, we will contact you to let you know. If you have provided all the required information, we will process your request as soon as possible within one month, in accordance with data protection laws.
Please note that our Data Protection team does not deal with requests for invoices. In order to quickly and easily receive invoices of your bookings, please use the easyJet Contact us form.