Border Force is a law enforcement command within the Home Office. It secures the UK border by carrying out immigration and customs controls for people and goods entering the UK. Please familiarise yourself with the below information and procedures to make sure your travel is easy, fast and safe.
Before you set off
Have all your travel documents, organised and easy to access.
Create copies of passports, visas and travel insurance information. Keep them separate from the originals.
Give your itinerary and travel details to family and friends so they know where you are going and when you will return home.
Pack all liquids over 100ml in your hold luggage.
Liquids carried in your hand luggage must be under 100ml and held in a clear plastic bagno more than 20cmx20cm in size.
Airport security
Have your boarding pass in hand and your passport open at the photo page.
Do not wear too many accessories; they will need to be removed for your security check.
Laptops and tablets need to be removed from your bag and screened separately in the trays provided.
Put what you can in your hand luggage before you reach the scanners.
Be prepared to remove your shoes if required.
Returning to the UK
If you have a microchipped passport – use an e-passport gate. You will get through the border much faster.
Some airports allow 12-17 year olds to use e-passport gates when accompanied by an adult.
Have your passport open and removed from any covering.
Take off any hat and sunglasses you are wearing.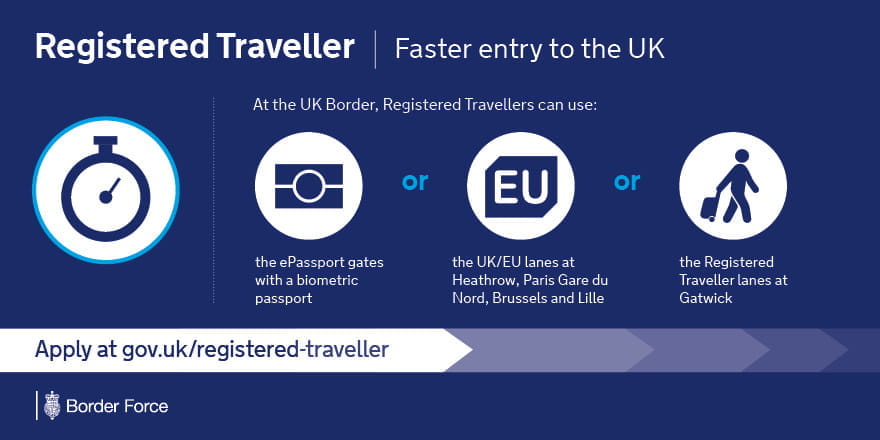 As you know the Registered Traveller Service (RTS) is a secure, premium and discretionary membership based service that provides expedited border clearance to carefully vetted individuals from a specific number of approved countries/territories.
The service went fully live on 8 April 2015 for applicants aged 18 and over from Australia, Canada, Japan, New Zealand and the United States and was subsequently extended on 25 January 2016 to Hong Kong (Special Administrative Region document holders only), Singapore, South Korea and Taiwan.
The Registered Traveller Service is available at most airports in the United Kingdom and at the Eurostar terminals in Paris, Brussels and Lille, with plans in place to extend to more airports in the UK in 2017.
There currently are 68,000 members and since the service was launched, members have made over 400,000 expedited journeys through the UK border. User satisfaction remains high, with users consistently awarding the service a satisfaction level of around 90%.
As of 21 November 2016, the Registered Traveller Service expanded to include a further sixteen countries and full details of the newly eligible cohorts are available on Border force website https://www.gov.uk/registered-traveller.