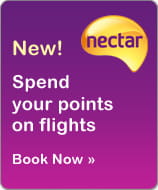 nectar points can now be redeemed on easyJet flights...
Our partnership with nectar now enables you to spend your points across 550 routes in 30 countries on easyJet flights with no restrictions!
Every 500 points is worth £2.50 to spend towards flights. Pay for your flight and taxes in full using nectar points, or use a combination of nectar points and cash to complete the transaction.
Speedy boarding, hold baggage and sports equipment can be included at the same time as your flight and you can still manage you booking once complete at myeasyJet.com
How to spend your nectar points on easyJet flights
1. Visit our dedicated site
nectar.com/easyJet
2. Login to your nectar account
3. Search for flights, book and proceed to pay
4. Decide how many points you would like to use towards your easyJet flight booking
Please note that you can only use your nectar points on the dedicated nectar easyJet website. For further assistance please contact the nectar helpline on 0844 811 0811.