PREPARE TO FLY
WITH CONFIDENCE
TRAVEL RESTRICTIONS AND ENTRY REQUIREMENTS
With a number of governments imposing certain travel restrictions and entry requirements, which may include restrictions from specified risk areas, it's your responsibility to continue to check the relevant local government websites and comply with all entry requirements for your destination before you travel, and for any destination you may be returning to. These may include, but not limited to, providing evidence of a negative COVID-19 test (which may need to be presented in a specific language(s)), completion of specific forms, and quarantine requirements on arrival.
Our Country-Specific Travel Information page is for the purpose of helping you find some of the local information you need to prepare for travel, however this may not include the latest government information. That's why it's important that you continue to check local government websites and updates.
For information on where our destinations sit in the UK Government's traffic light system, including green, amber and red list destinations, see here >
Check our Country-specific travel information page here >
YOUR SAFETY AND WELLBEING
We know flying is going to feel a little different for a while, but rest assured - your safety and wellbeing remains our highest priority.
Our teams have been working incredibly hard to introduce a range of measures to help keep you safe and allow you to fly with confidence.
Alongside our pledge, we created our video 'Your wellbeing' (see below), to give you all the reassurance that you can fly with confidence.
See below for more detailed information about the ways in which we're looking after your wellbeing, and find answers to any questions you may have in our FAQs. We look forward to welcoming you onboard.
Three key points to note:
✔︎ Do not travel or go to the airport if you have Covid-19 symptoms.
✔︎ Face masks must be worn at the airport, at the gate when boarding the aircraft and throughout the flight. If you have an exemption from wearing a mask, you must bring a doctor's letter or medical certificate which clearly states you're exempt.
✔︎ You may be required to complete a health declaration/locator form online prior to travel or bring confirmation/forms with you to the airport. Failure to do so could result in you being refused travel or denied entry to your destination. Check government entry requirements here.
BEFORE YOU TRAVEL
Most importantly, if you or those you are travelling with have symptoms of Covid-19, you must not travel. Please do not travel to the airport, and follow the guidelines set out by the authorities as to what to do if you feel unwell.
If you are well and ready to travel, be aware of any specific travel restrictions or entry requirements to the destination you are flying to, and for any destination you may be returning to. Many countries require specific forms (health declaration and or/locator forms) to be completed in advance, and presented either during boarding or on arrival. Additionally, you may be required to provide evidence of a negative Covid-19 test, which may need to be presented in a specific language(s), before travel or on arrival, and/or have to quarantine on arrival. We ask that you check government and public health websites for the relevant information and latest updates, follow their advice and bring any completed forms with you as required. Find out more.
If you live in the UK, Germany or Switzerland or are just travelling from any of these countries, we can now offer you access to COVID-19 testing through accredited service providers at a discounted price. Find out more >
To look out for the wellbeing of all passengers and crew, it's vital that you adhere to all these important measures during your journey. They have been introduced in consultation with aviation authorities, the International Civil Aviation Organisation (ICAO) and European Aviation Safety Agency (EASA), and relevant national authorities and with the advice of our company medical advisor.
You can check the status of your flight on our Flight Tracker up to 2 days before the date of departure.
For further updates, please check our Latest travel information page.
OUR MASK POLICY
Keeping you, and all our passengers and crew safe is our number one priority. So we've updated our mask policy to ensure that everyone can travel comfortably and confidently.
Wearing a face mask on easyJet flights is mandatory, and you will not be permitted to board if you arrive at the gate without one. You'll also be required to wear a mask to enter and travel through the airport terminal at your departure and arrival airport.
Exempt from wearing a face mask?
If you have an exemption from wearing a mask, you must bring a signed doctor's letter or medical certificate (printed or digital format) with you to the airport when you travel with us, that clearly states that you're exempt from wearing a face mask (please note, there's no need to specify the medical reason for the exemption). This must have your name on it and the details of the medical practice. We do not accept downloadable exemption certificates, or lanyards. This helps to ensure that you, our crew and all of our passengers can travel comfortably and confidently throughout the journey.
Please make this available on request for our airport staff and crew to see. If you're unable to present this you may be refused travel.
What kind of mask should I wear?
It's important that the masks we wear provide the best possible protection. That's why we're no longer allowing scarves, face visors or masks with valves.
The mask you wear should be FFP2 (or equivalent) certified, surgical or cloth.
If your mask isn't suitable, you may be refused travel.
See below for guidance on acceptable masks and how a mask should be worn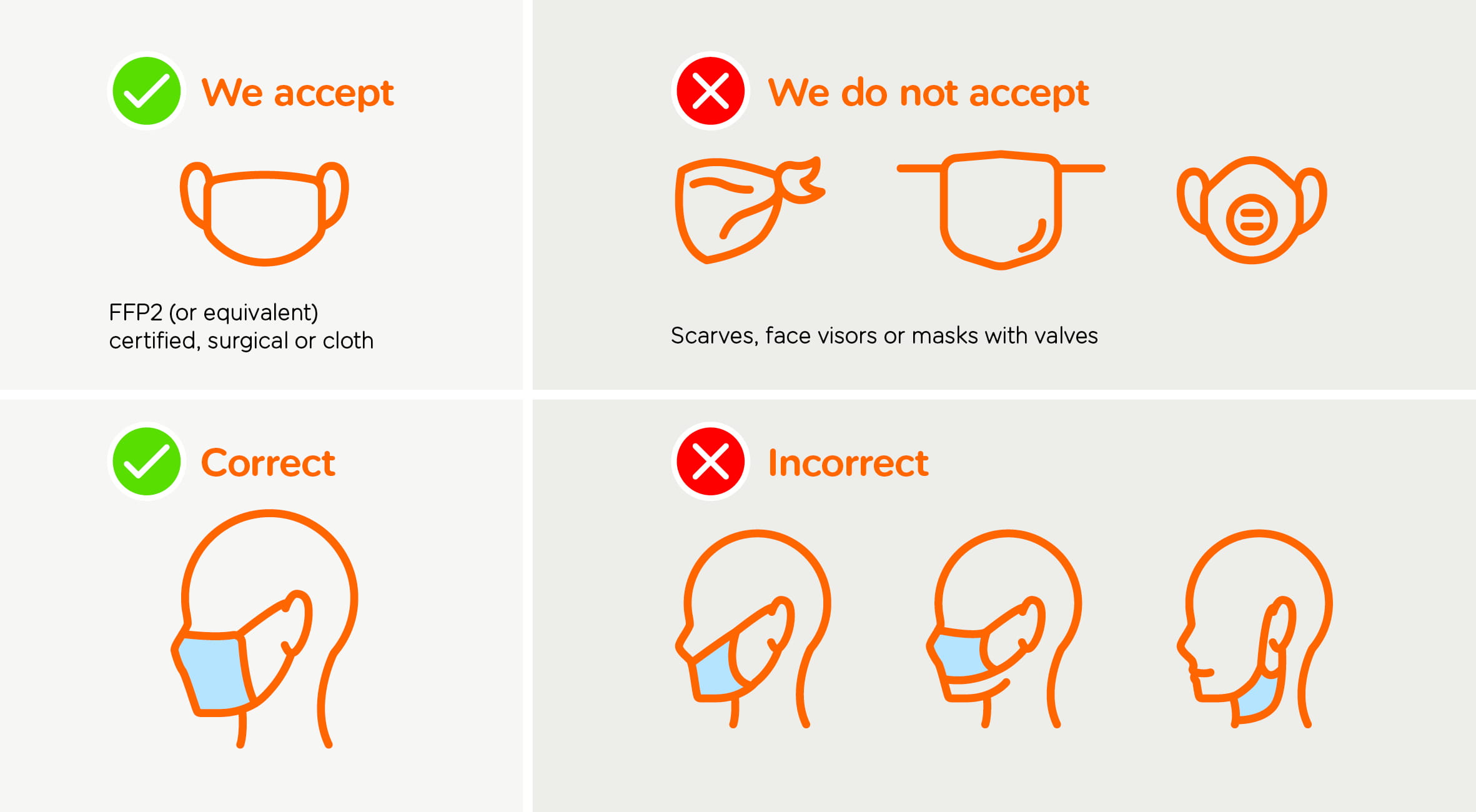 Some local government authorities have introduced more specific requirements on the type of face mask that must be worn and the age requirement from which a mask must be worn. Here you will find government specific links with some helpful information, but please note this isn't an exhaustive list and it's important that you check government websites for the latest local government policies before you travel.
Masks should typically be replaced every four hours, so please ensure that you, and those you are travelling with, have an adequate supply for the entire duration of your trip.

For more information about masks, see our FAQs.
AT THE AIRPORT & DEPARTURE
After arriving at the airport, you'll notice that your experience will be a little different to what you're used to. Social distancing rules are the same as they are in other public spaces, so these should be maintained as much as possible. Only those travelling may be able to enter airport terminals, and anyone accompanying may only be allowed to enter in special circumstances.
Please arrive at the airport at the time indicated on your boarding pass and regularly check Flight Tracker for any changes to your flight. As always, it gives us time to complete the formalities and will keep the time you spend in the terminal to a minimum. Airport facilities for food and drink may also be limited during this time, however you'll find restrooms where you can wash your hands with plenty of soap and water, along with hand sanitiser located around the airport.
ON BOARD
When it's time to fly, you'll notice that boarding and disembarkation may be different in order to maintain the safety of all. It is important that you please listen closely and follow the instructions of the ground and cabin crew.
Once on board, you'll need to stow your own cabin baggage and close the overhead lockers yourself. Larger bags may make this more difficult, so we would encourage you to check these in to the hold. Our crew will be managing use of the toilet facilities.
We have a limited Bistro & Boutique service which is only available on selected flights departing from the UK and Switzerland. We offer a pre-order service on our Swiss duty-free flights. Visit our website for more information on how to order. There is no Bistro & Boutique service available on European departing flights at this time. Drinking water is available on board on request from your cabin crew.
Additionally, brochures are not available on board. Please visit our easyJet App or website to see our latest Bistro & Boutique range or check with our crew on board. Please note all flights are cashless so payment will be by card only.
Our aircraft are already fitted with HEPA filters, the same as those used in hospitals, replacing cabin air every three to four minutes. The cabin is thoroughly disinfected daily, which provides surface protection from viruses that lasts for at least 24 hours.
ARRIVAL
Upon landing, there may be additional exit checks at your destination. Screening could be in operation, and if you're presenting signs of Covid-19, local public health authorities at the airport may refuse onward travel.
If we all work together to follow the measures we've outlined above, and those in our pledge, we can all get back to exploring Europe with confidence once again.