Covid-19 Travel Hub
Safety and wellbeing
Travel with confidence
We're doing everything we can to deliver the safest and cleanest travel experience for all our passengers. To ensure you're kept safe and sound, we're following the highest hygiene standards and equipping our planes with hospital-grade air filters and around the clock disinfection. So, it's safe to say you're in good hands with easyJet.
KEY SAFETY MEASURES
Whether you're a passenger or part of the easyJet crew, we want your flight to go as smoothly as possible. With this in mind, we've introduced a few extra safety measures with the aviation authorities, the International Civil Aviation Organisation (ICAO), the European Aviation Safety Agency (EASA), and the advice of our company medical advisor. These measures include:
CLEANING & DISINFECTING
On top of our current daily schedule, we've added even more cleaning and disinfection for aircraft cabins. Every aircraft has a daily disinfection process that provides surface protection from viruses for at least 24 hours.
STATE OF THE ART FILTRATION SYSTEMS
Our aircraft are fitted with the latest, state-of-the-art filtration technology that clear 99.97% of airborne contaminants in the cabin, including viruses and bacteria. These filters are also used in hospitals and replace cabin air every few minutes.
CONTACTLESS BOARDING
Ground and cabin crew won't handle any documents during boarding, so you'll need to present them yourself. It's safer and easier to check-in online and download your boarding passes via our app or print them before arriving at the airport.
UP-TO-DATE SAFETY MEASURES
There may be extra safety measures at the airport, like wearing masks, self-declaration health forms, locator forms, and temperature screening. We're in contact with all airports to keep up to date with the latest guidelines to protect passengers.
AUTOMATED BAG DROP
To protect customers and ground crew in the airport, you can use our automated bag drop (where available) to check in your luggage. We have screens in place at our bag drop desks and airports where auto bag drop's not available.
BISTRO SERVICE AVAILABILITY
Most flights now offer our complete in-flight retail service. You can explore what's available in our latest Bistro & Boutique range by visiting our App or website. If your flight's affected and doesn't offer a retail service onboard, we'll inform you via Flight Tracker.
Our mask policy
Your safety is our number one priority, so our mask policy ensures everyone can travel with total confidence. Everyone over the age of six needs a mask and you won't be able to board your flight without one, so be sure to grab a mask before you leave home.
WHAT KIND OF MASK SHOULD I WEAR?
It's important that your mask offers the best possible protection, so we're no longer allowing scarves, face visors or masks with valves. Your mask needs to be FFP2 certified (or equivalent) and be surgical or cloth material. If it's not suitable, you may be refused travel.
Austria, France, Germany and Italy have specific requirements on the type of mask you need, and they also have an age requirement for the wearer. Head over to our Travel Restrictions area for more information.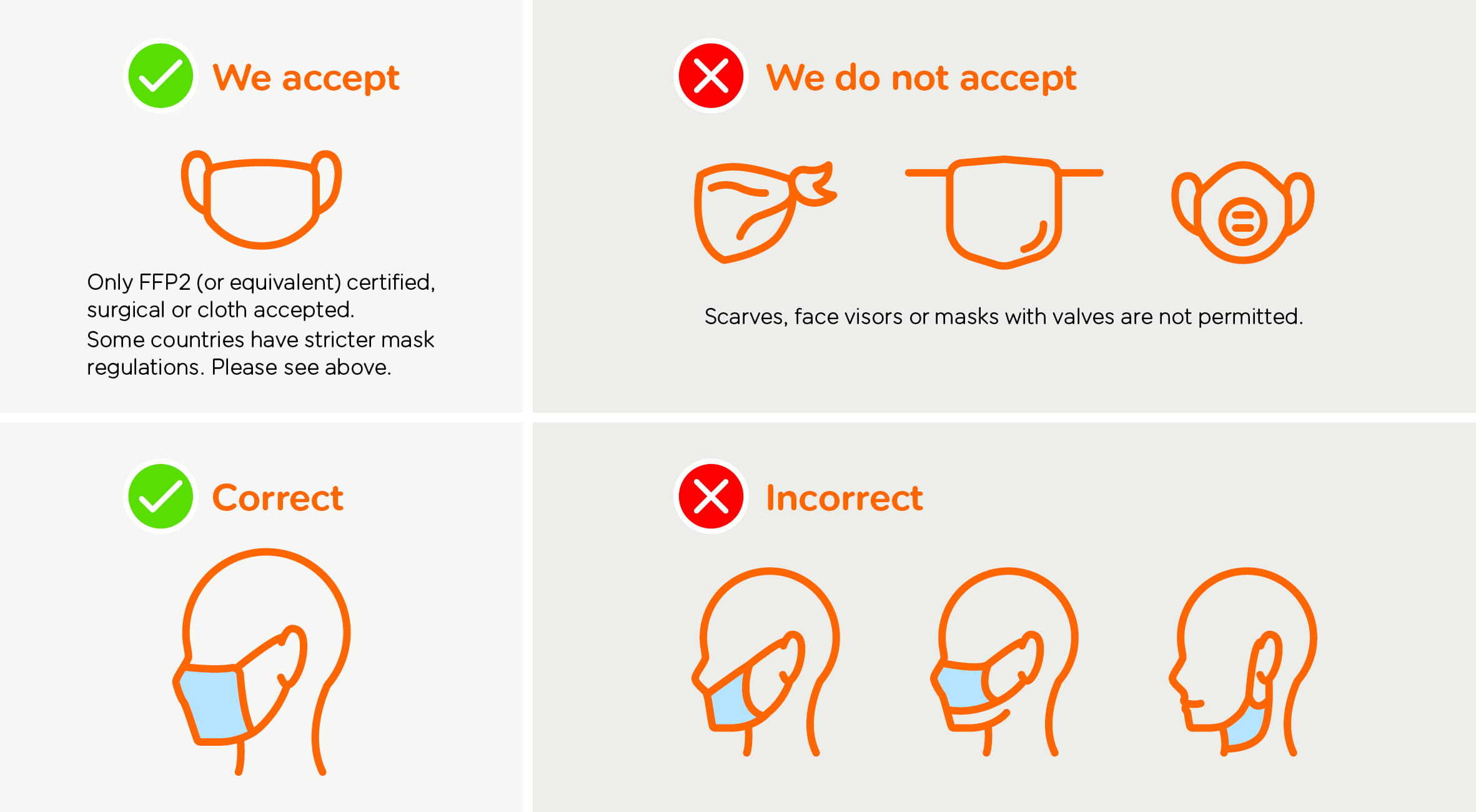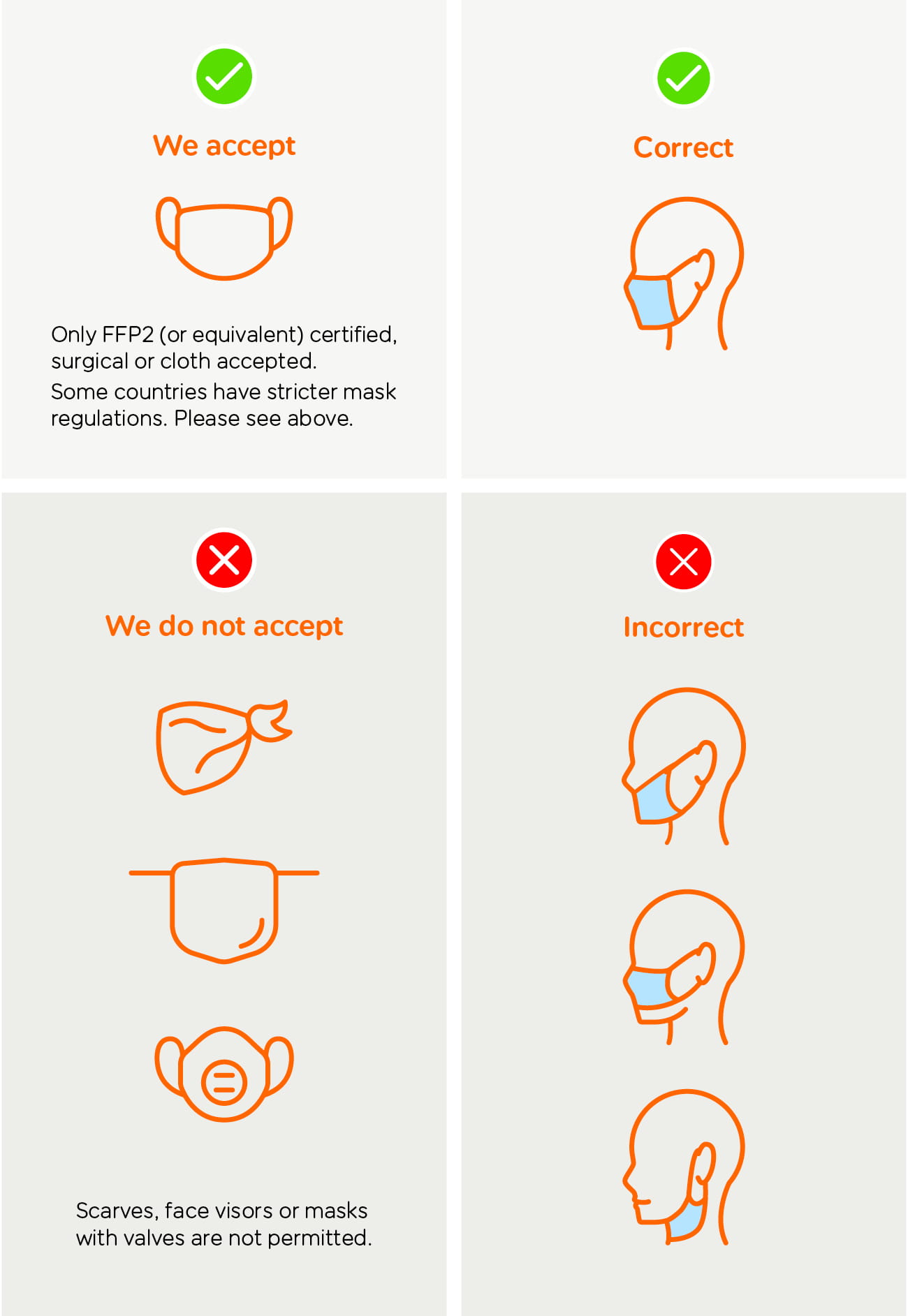 EXEMPT FROM WEARING A FACE MASK?
We understand some people may not be able to wear a face mask, so if you're exempt from wearing one, please let us know before you travel. Some destinations, like Austria, France, Germany, Italy, Portugal and Switzerland, ask for a medical letter or certificate to prove exemption when flying to and from these countries. This may change, so please check the latest updates before travelling.
HOW CAN I ADVISE EASYJET I'M EXEMPT FROM WEARING A MASK?
If you're exempt from wearing a face mask, we'll need you to complete a web form, then read and agree to the below statement:
I declare that I'm unable to wear a face mask because I have [or am assisting a person with] a medical condition or disability that prevents me doing so. I've read and understood easyJet's policy on travelling with a medical condition and my medical condition complies with this policy.
I understand that different countries may have specific requirements on wearing face masks, which may include specific document requirements for exemptions. Further information can be found on each country's local government website. I confirm that I've checked and will comply with all authority requirements for the destinations I am travelling to, from and within.
I'm completing this form in my own name, or on behalf of, and with the authority of, the named passenger. I confirm that I have completed this form to the best of my knowledge and belief.
Please visit our Contact Us page to access the web form. Once on the page:
scroll down to 'Write to Us'
click 'View contact us form'
select 'Mask Exemption' from the 'Your question' dropdown
include your booking reference before finalising your details
Once submitted, our team will review and contact you to confirm we've added this information to your booking so our crew are aware.
If you don't notify us about your mask exemption before you travel, you can still fly with us if you provide a medical letter/certificate when boarding. The name on the certificate must match the name on your booking and be dated within the last 12 months. This can be in print or digital format and will be checked by our crew. Please be aware that if you don't notify us in advance or provide the required documentation, you'll be denied boarding unless you wear a mask.
Additional requirements for flights to, from and within Austria, France, Germany, Italy, Portugal and Switzerland
Some countries have different legal requirements for those who are exempt from wearing face masks. Please be sure to check local government websites before travelling. This may also apply for customers requiring special assistance.
Any customers flying to or from these countries who are exempt from wearing a mask, you must provide a medical letter/certificate during boarding with the passenger name as per the booking and dated within the last 12 months. This will be inspected by crew. If you don't have this, you'll be refused travel unless a mask is worn.